How to Handle Your Rabbit
By nature, rabbits are a prey species, and as a result are generally not particularly comfortable with being handled, held, picked up or restrained in any way. All those things bring out the instincts that they have that make them shy away from people and predators.
Despite that, any owner has to be able to handle their rabbit so it is important to be as competent as possible and do it in the safest possible way for your rabbit.


Rabbits Do Not Like Being Handled
I think first it's important to look at how the process feels to the rabbit.
A rabbit is prey to many, many predators. Most of these predators will approach from above. Some of these predators will lift them up. Some of these predators will chase them around all over the place trying to catch them. These predators will feel adrenalin when approaching the rabbit.
Therefore, it is important to do everything possible to avoid those situations which may bring out a rabbit's natural prey instincts.
To take it one step further, when you pick up your rabbit, the rabbit is going from a stable 'four legs on the floor' situation and effectively 'flying' through the air, to somewhere else. In human terms, this would be a bit like a Fair Ground or Theme Park ride and only very select people choose to go on those, and only in their own control. Rabbits do not have that control. Being aware of how it can feel to them can help us to approach handling them in the best and most acceptable and comfortable way.
It is reasonable to assume from all of this that the majority of rabbits do not like being handled and may react badly to it. An owner needs to be prepared for this, but also be aware that the rabbit is not reacting to the person trying to hold them, personally, unless that specific person has abused them; the rabbit is reacting to the situation or what it perceives the situation to be and how honed his or her instincts are.

You need to show you are trustworthy
Rabbits are so vulnerable and, by nature, they don't trust. Handling is much, much easier the more your rabbit trusts you and knows that you can be trusted with them.

When it comes to handling a rabbit, the best way to get a successful result is to make sure that the whole process is done in the least stressful way for the rabbit. With this in mind, it is important to look at approaching the rabbit, picking up the rabbit and also holding the rabbit once you have picked it up.
How to Approach a Rabbit
It is important to remember these things when approaching your rabbit.
~Ensure you smell of nothing strong (such as other rabbits or an animal your rabbit might perceive as a predator, like a dog)- If you smell of a predator, then your rabbit is likely to run away from you because s/he is likely to perceive a threat.
~Ensure you are completely calm- Rabbits are exceptionally sensitive to emotions and can feel them and react to that, even if they don't know what is causing them. This means that it is important to stay calm, to give your rabbit the best chance of remaining calm. If you feel angry or frustrated, if you feel upset or desperate, if you go on a 'mission' to catch your rabbit, your rabbit will feel any of those emotions and will react accordingly with the 'fight or flight' instinct, which may include being aggressive or it may include running away.
~Ensure you approach at the height of the rabbit- Most predators approach rabbits from above and therefore instinctively rabbits react to anything approaching them from above. This means that the closer you can get to their level, and approach them that way, the better. For example, if you are approaching a rabbit that is at ground level, you need to approach at a crouch. Another example is that if you are approaching a rabbit in a run, it is important not to approach from above, but from the side, where possible.
~Ensure you move slowly- Moving slowly will help your rabbit stay calm and not feel threatened. Fast movement such as 'lunging' or running at the rabbit, or trying to grab the rabbit can spook the rabbit and make him/her more likely to run. Unexpected noises can damage the trust that your rabbit has in you.
~Ensure you move quietly- Keeping quiet will help with keeping calm, both keeping your rabbit calm and keeping yourself calm. Talking quietly, or even singing quietly, can be helpful for you both. Any loud noises or unexpected noises can spook a rabbit in the same way fast movements can, and can also damage the trust the rabbit has in you.

How to Pick up a Rabbit
When you have successfully approached your rabbit, you need to make sure you carry on doing all those things when you start to pick up your rabbit.
~Smell of nothing potentially distressing
~Be calm
~Approach at the height of the rabbit
~Move slowly
~Move quietly
In addition to all of that it is vital you are
~Confident and make positive moves to show your rabbit that s/he can trust you.
~Paying attention to how your rabbit physically feels (such as tense or relaxed), to know what to do and when. Being able to feel how tense or relaxed a rabbit is, and feel their emotional state through their limbs can be exceptionally useful in many situations.
It's important to remember that all rabbits have exceptionally vulnerable spines and therefore need to be supported and held in a way that does not risk spinal injury.
The Golden Rule for holding any rabbit, big or small, is to remember to
Support the back end and also support the front end.
Please note: these steps are a guide, and there are other safe ways to pick up a rabbit and follow the Golden Rule; these can just be a good starting point.
~Step One-slowly place a hand over the eyes of the rabbit- Covering the rabbit's eyes when feeling calm can help them relax and stay still. This is often someone's dominant hand.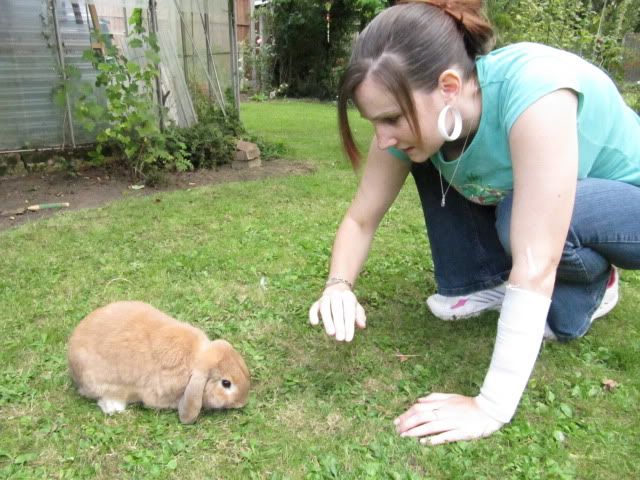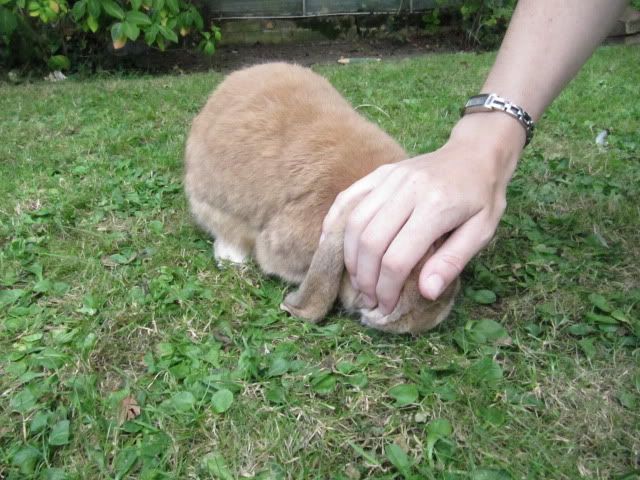 ~
Step Two
- place your other hand around the back end of the rabbit
- The hand needs to be placed so that your little finger is just above where the tail meets the body. This hand gives you stability and you can also use your arm to run the length of the rabbit and give stability that way too. At this point some rabbits may wiggle. If you stay calm with one hand over the eyes and one around the back end, the rabbit will calm down and relax. Once the rabbit is relaxed then you can move to the next phase.
~Step Three- gently move the hand that is over the eyes so that it is under the front legs- Moving this hand can be difficult for wriggly rabbits, but using your other arm and hand (where they still are from Step Two) and leaving one finger on the top of the head until you are in place, to help them feel stable and secure should help.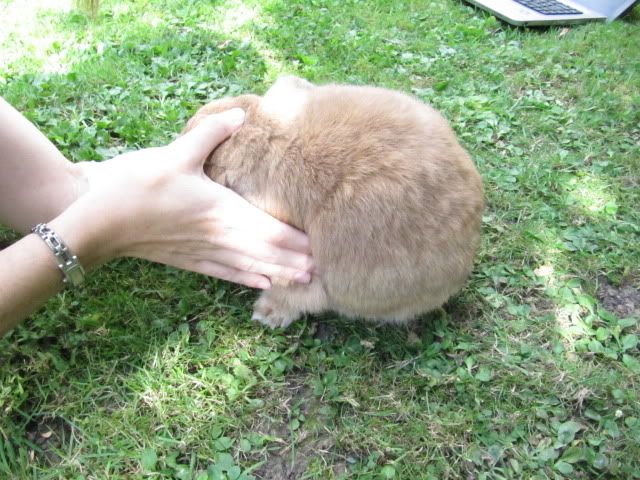 ~Step Four- gently lift with both arms and move the rabbit so s/he is held to your body- To do this you need to be as close to the rabbit as possible and move the rabbit gently but confidently so that s/he is held securely to your body. Once again, you may find the rabbit wriggles, but then it's down to you to decide whether it is safer to carefully put the rabbit down and start again, or to hold them to you until they relax.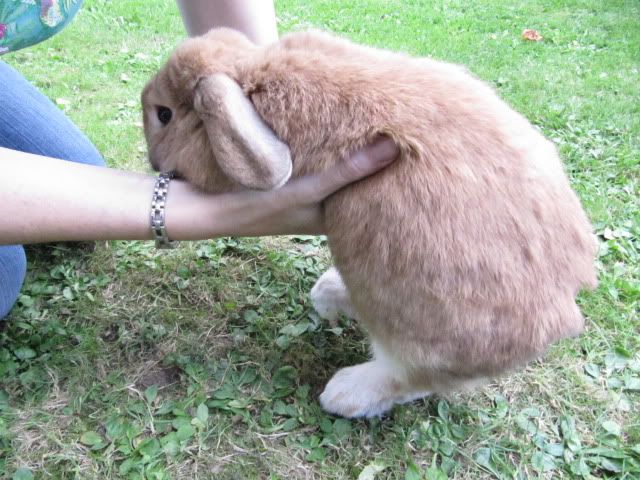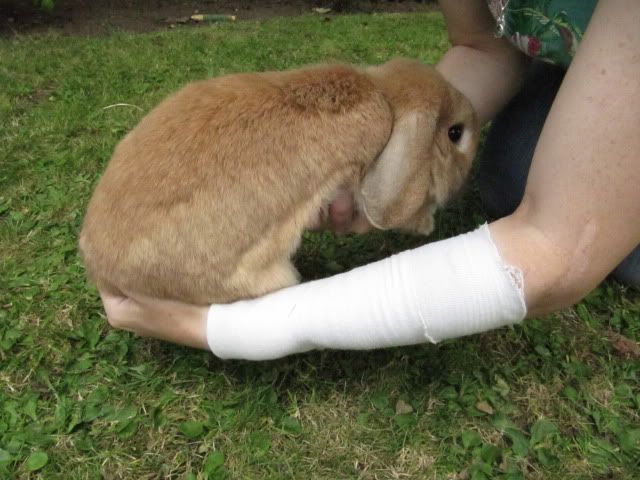 By this point you should be holding your rabbit securely and safely.

How to Carry a Rabbit
Being carried can be disorientating and distressing for a rabbit, so it is important to make him/her feel as safe and secure as possible.
It is important to remember all the things you have already read about approaching and picking up a rabbit, most specifically,
~Smell of nothing potentially distressing
~Be calm
~Move slowly
~Move quietly
~Be confident
~Be positive
~Paying attention to how your rabbit physically feels (such as tense or relaxed) to know what to do and when. Being able to feel how tense or relaxed a rabbit is, and feel their emotional state through their limbs can be exceptionally useful in many situations. In this situation specifically, it can tell you, before a rabbit moves, if s/he is considering moving or wriggling or jumping or doing something else that may be risky.
There are several different acceptable ways to carry a rabbit.
These are the acceptable, most secure and most likely to succeed ways. It is important to remember that not all positions work for all rabbits, and they will have their preferences in the same way that you will.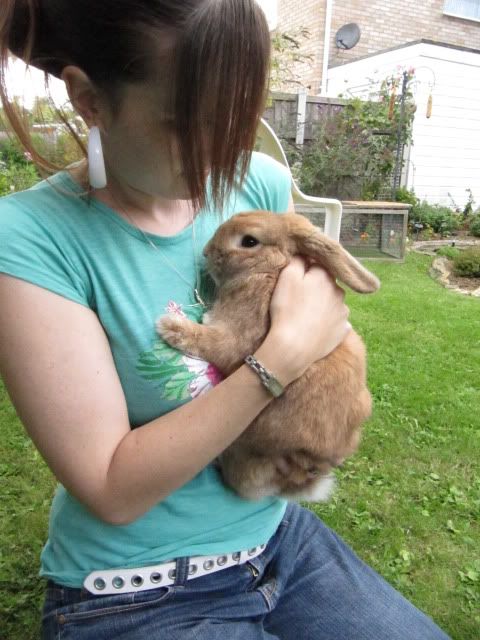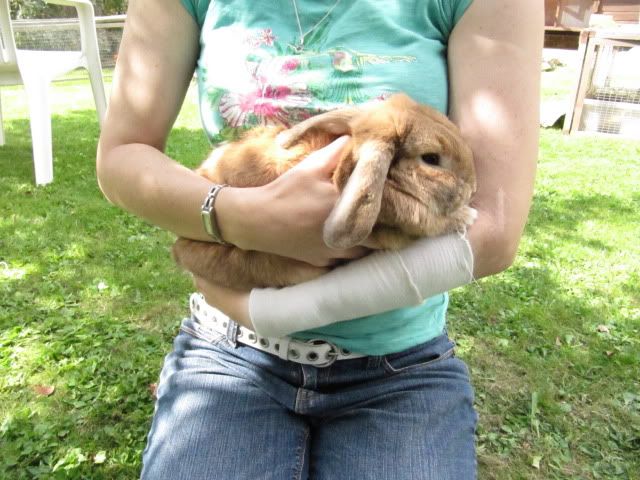 Also remember that you are likely to need to adjust your grip depending on the size of the rabbit you are holding.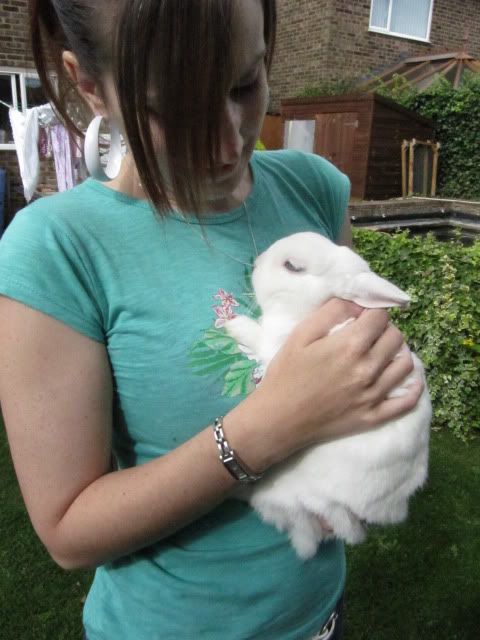 Inappropriate Ways to Pick Up or Carry a rabbit
It is important to identify the ways in which a rabbit should never be held or picked up (Please note: for the pictures in this section, the rabbit has remained on the floor, the photos are just to indicate where not to hold).
~Never 'scruff' a rabbit- The 'scruff' of the rabbit is the area just behind its ears where the injections go. 'Scruffing' involves picking up the rabbit by this area (with or without supporting the back end) and moving them in this way. Picking up a rabbit in this way can hurt the rabbit and there is no justifiable reason for holding a rabbit in this way, not even for an aggressive rabbit.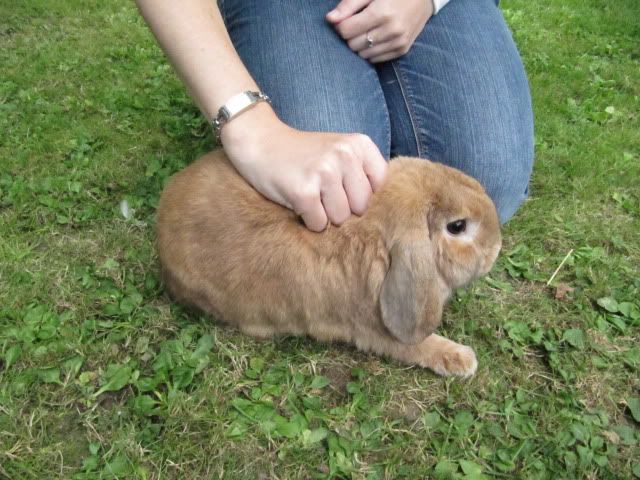 ~Never hold the rabbit's ears- In times gone by many owners would use the rabbit's ears to pick them up, either supporting the back end or not. This is not appropriate and can be exceptionally painful and distressing to the rabbit, and can also damage its ears.
~Never hold the rabbit predominantly by the front legs- Sometimes people may be inclined to pick up a rabbit the same way they might try and pick up a cat; near the shoulders. This can dislocate the rabbits front legs and is not appropriate.
~Never carry the rabbit 'lying down' on its back- People sometimes want to 'cradle' their rabbit. It is not safe to carry a rabbit like this because it is not supporting the rabbit's spine in the way the rabbit needs, which means there is a significant risk of spinal damage. Also, the rabbit will not feel secure or safe being carried in this way.
The Challenging Rabbits
By nature there will be far more rabbits that are challenging to handle, than those who are easy to handle. A lot of how easy these rabbits are to handle comes with confidence from each individual owner, or whoever is handling the rabbit. Sometimes though, even the most confident and competent handler will come across rabbits that present handling challenges. In these cases it is important to look at the whole situation and why the rabbit is acting as it is and what you can do to improve the situation.
~Aggressive rabbits- Aggressive rabbits can be very difficult to handle, especially if you fear they will bite you. Being calm is even more key with them, as is wearing clothing that protects you, so that you feel secure handling them. It's important to watch their ears, as well as feeling how tense they feel physically, because they can give you a guide to their mood. If their ears are 'wiggling' (i.e. going up and down) as you approach them, this may indicate aggression, so it's important to be aware of this when approaching them.
~Rabbits that fear being handled- Rabbits who have been through bad experiences or who have not had good experiences of being handled are likely to fear it. The key is to win your rabbit's trust and bond with them. The more they trust you, the easier the handling will be. Prove to them you are trustworthy, and be careful not to break the trust.
~Rabbits who dislike being handled- Most rabbits dislike it, but there are some who will avoid it at all costs. Sometimes, with these, once you have them and they are secure, it's a case of not letting their wiggling get them the result they want, and just stay calm and cool. You will know if your rabbit is just making a protest, if as soon as you put them down, they will come straight back if you offer them a treat. A rabbit who is traumatised by what you have done will not come back for treats so quickly. This is not a matter of trust, this is a matter of likes and dislikes.
~Rabbits with disabilities or injuries or wounds- It can be exceptionally difficult handling a rabbit with an injury or a disability or a wound of any sort. The key is to be aware of exactly where you are holding the rabbit and how that might impact on whatever issue they are struggling with. Sometimes you have to adjust the way you hold them to compensate for a problem, and to ensure you hold them in a way that is safe for them.
~Rabbits that run away- Depending on where you pick your rabbit up from and your rabbit's personality, s/he may be inclined to run away from you. If that happens, don't chase. You need to still take into account all the things already mentioned. In addition to that, at times when you are not intending to pick up the rabbit, luring your rabbit over with a specific noise (this can be as simple as the rustle of the bag that food comes in) and then rewarding with a treat can get them used to coming to you. Also, you will get to know your rabbit's hidey holes and where they go, so you can block those off. You can aim to approach your rabbit whilst s/he is in a corner, so has less chance of running off, but in these situations, using a carry case may be useful to encourage the rabbit into instead. If your rabbit is in a panic and is running off, then sometimes going away and leaving him/her to settle can be useful. It would also be suggested not to allow your rabbits free range or access to any space you may not be able to pick them up from, until you are confident in your rabbit, your bond with your rabbit, and primarily your rabbit handling skills.

In addition to all of that, if you are not sure you can handle your rabbit, but do need to transport them, then using a carry case they can walk in and out of can be the safest method to use.
Remember, the Golden Rule for handling any rabbit is
Support the back end and also support the front end.
(Copyright Tracy Hutchings. Written August 2011)